Ergonomic workplace systems and powerful smart industry software optimize service processes
The euromicron Group is supporting Berliner Verkehrsbetriebe (BVG), Germany's largest local transport company, in rolling out future-proof workplace environments. Cutting-edge workplace systems from euromicron's subsidiary ELABO will be used with immediate effect in the BVG's service workshop, where ticket machines among other things are repaired. The height-adjustable systems, which are equipped with high-quality lighting panels, meet the latest ergonomic standards and so offer maximum convenience during work at them, as well as impressing with flexible connections and superstructures. Thy are also fitted with refined equipment to prevent ESD (electrostatic discharge) certified by the German ESD Academy in accordance with IEC 61340-5-1.
In view of the growing complexity of BVG's operations, its process organization was rigorously optimized as part of modernization of the workplaces: All workplace PCs at the service workshop have now been equipped with the smart industry software ELABO Information Management (EIM). The software marks the step toward the digital working world and enables fully connected operational processes to be established. It is mainly used at the BVG's service workshop at the moment for providing and calling up digitized work instructions. They guide the technicians through the work processes step by step and supply all the necessary background information. Automatic in-process documentation of all work steps reduces the workload further. ELABO will support the workshop's staff with training workshops on digitization during the rollout. There is also the option of connecting the service workplaces to the BVG's merchandise management system via EIM in the future.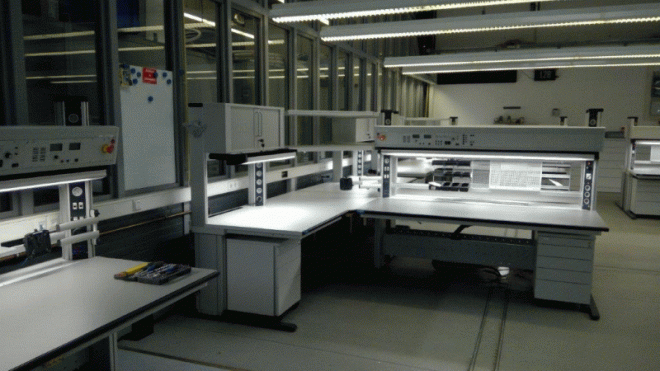 "As one of the leading German specialists for the Internet of Things, the euromicron Group has successfully worked for transport companies for years, as proven not least by our cooperation with Deutsche Bahn," states Timo Henkelmann, Head of ELABO's Workplace Systems division. "By accomplishing the workplace project for Berliner Verkehrsbetriebe, euromicron has demonstrated once more that it's an absolutely reliable technology partner, even for the largest German transport companies."