euromicron in brief
As a German specialist for the Internet of Things (IoT), euromicron enables its customers to network business and production processes and successfully move to a digital future. With its expertise from sensors to services euromicron offers its customers solutions for Digital Buildings, Smart Industry and Critical Infrastructures, flanked by Smart Services from a single source.
Tailor-made, innovative technology solutions are a core competence of euromicron. With its expertise in sensors, devices, infrastructure, software and services, euromicron is in a position to offer its customers networked and comprehensive solutions from a single source.
In this way, euromicron helps its customers to increase flexibility and efficiency as well as to develop new business models. With its solutions the euromicron Group is the partner to small and medium-sized enterprises, large companies and public-sector organizations.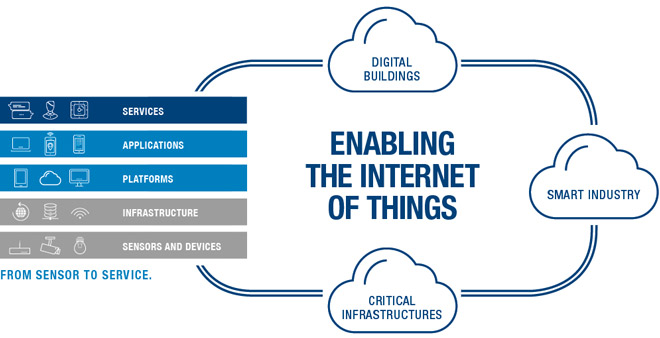 Backed by this manufacturing know-how and many years of experience in developing and integrating technologies, euromicron delivers customized solutions – from design and implementation, operation, to related services – and creates the IT structures required for that. euromicron's solutions enable users to increase the flexibility and efficiency of their business and production processes – and so create the foundation for their company's success down the road.